How to Pick the Right Rack for Your Retail Store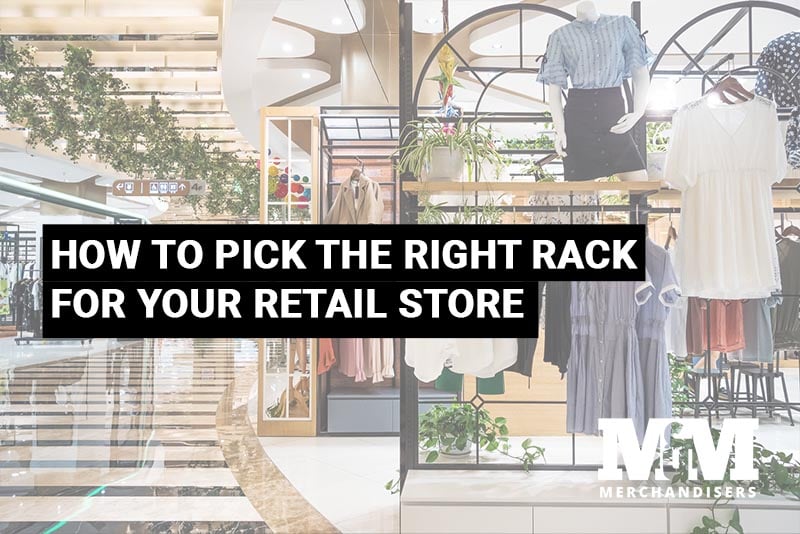 Imagine having a golden-ticket idea or product that will sell itself if customers can simply see it, use it, or ask questions. In this scenario, the space of your retail store will be the deciding factor of how much you can and cannot sell. It's a space that is largely determined by how you store, stack, share and showcase your products. But with so many display options to choose from, how do you choose the right racks for your store?
Looking for a reliable supplier for your retails store or pawn shop?
Contact M&M Merchandisers to keep your store stocked with the products your customers want.
How to Pick the Right Rack for Your Retail Store
Successful visual merchandising considers both what you're displaying and how you're displaying it. The type of rack and display can either limit your options or open you up your ideas. Usually, the right rack fulfills at least one of the main criteria: functionality, location, installation, or cost.
Functionality
Functionality refers to whether the display can hold the weight of whatever product you're trying to sell, and if it's the right size. For example, a wire, free-standing, spinning rack wouldn't be ideal for glass jars because the racks are flimsy and the product can easily slide of break. Yet, a wire rack would be ideal for small, light items, such as keychains.
Location
Location refers to where the rack or display is placed within the store. One everyday example of successful rack location is seen at grocery stores, where necessities (like milk, bread, and eggs) are placed at the back of the store. The idea here is that these items are popular and, by placing their racks in the back, customers must walk through the entire store before reaching the dairy display.
Installation
Installation refers to how easily one can set-up a rack. A person may need to frequently change the display, such as when featuring a seasonable item, and thus an easy set-up and tear-down rack is ideal. A versatile and easy to move rack may also be the case if the person plans to expand the store. On the other hand, one buy a standard and stable set-ups that aren't easily disassembled if they're set on the store's setup and need to consider racks that require professional installation.
Cost
A big factor in choosing the right shelf or rack is cost. Different style of racks vary in their costs; this is especially true if it depends on the installation process. For example, peg-board racks are cheap and easy to install (about $50- $100 per sheet), but can be dull. Large-rolling displays and specialty display looks nice, but are expensive. ($500+).
Related: 5 Effective Merchandising Techniques to Increase Sales
Types of Racks and Display Units in Retail Stores
The types of racks and displays can be summarized into six types. There are: window displays, table displays, gondola displays, peg boards, specialty cases, and garment racks.
1. Window Displays
Perhaps the best known type of display is the window display. A window display is a product table, rack, or setup placed behind the storefront's windows. For example, a series of mannequins dressed in the store's newest fashion or holding the latest products, and then placed behind the shop window is a window display, giving the customer context of the product.
The intent behind this type of display is to get customers to stop, look, and walk into the store. Thus, the window display is usually the store's most visually-enticing display, aiming to create a positive representation of the company in a condensed snapshot. Colorful lights, banners, and decorations may be hung above such a display to make it more eye-catching.
A window display is not to be confused with entryway displays, which are located at the storefront, too, but not behind glass. However, like an entryway display, a window display is typically the first display that is seen by customers. It is often used in clothing stores, handbag companies, or shoe outlets, where the intent is to imagine wearing or holding the product, but not necessarily try it right there.
2. Table Displays
A table table display is located inside the store and not behind glass. Rather, table displays are as they sound—displays that have a table shape to them. They're often seen at the front of the store, showcasing new, but smaller merchandise. Although the table itself can be a bulky item that is difficult to rotate or make appealing, there are a variety of tables that one can use (including tiered, round, etc.).
The advantage to using such a display is that customers can see and touch products in an open forum. This accessibility is a key difference from window displays. Therefore, the products of a table display are not only visually and creatively appealing, but also interactive. A clothing store may put their newest cashmere sweaters on a table display, so that customers can touch the fabric.
3. Gondola Displays
Another noteworthy display is the gondola display, which is a freestanding shelf with two-sides. It's called a gondola display because its long shape is reminiscent of the boat. A gondola display has a rigid frame and back, but can be equipped with adjustable shelves that are capable of holding heavy or light goods of all different sizes. The shelves can be pegboards or slatwalls, though the gondola display's framework is often steel. These displays are used mostly in grocery stores or pharmacies.
Gondola displays are beneficial because of their versatility and stability; they can be free-standing "islands" or positioned side-by-side by other displays, as well as hold a myriad of items. However, because gondola shelving is seen as bulky and dull, many companies use gondola displays once the customer is already in the store and shopping.
Imagine a typical grocery store aisle where the shelves are full of tin cans of pasta sauces and pastes, as well as boxes of various macaroni. While it makes sense to have these products located next to each other due to their use, each item has a different weight and size. Hence, gondola shelving make sense because it can display the variety, but accommodate for the range of sizes, shapes, and weights.
4. Peg Boards
One type of shelving that gondola displays may use is peg board shelving. However, peg board shelving can also be a standalone display. Pegboard shelving is a display that is made of fiber-board with rows of evenly-spaced holes. The holes can be used to hold pegs, pins, shelves, bins, hooks, or other types of attachment, depending on what you need.
The advantage to such shelving is that it's incredibly versatile. It allows you to hang, display, stack, and rack your products. You can also change interchange the type of display on the board, making it a rack at the same time that you have a small table display or a bin. The peg boards can be a stand-alone shelf on wheels, making it easily movable, too.
Additionally, it is sturdier than a grid wall display, which is lighter and requires less maintenance but is more flimsy. Still, the peg board is considered dull and not as study as a gondola display. Therefore, peg boards are usually used either in gondola shelving or as a standalone display that showcases small merchandise near the registers, such as chapstick, earrings, earbuds, USB cords, etc.
5. Specialty Displays
Near the peg boards and registers, one may also see a specialty display. A specialty display is a standalone, showcase table with a glass top. It holds items that are unique or expensive; sometimes there is a light in the display. Such displays are common at wine vineyards, jewelry stores or a shop that sells rare baseball cards. You may also see them at ice cream shops, where you can peer in at all the flavors and yet still keep the product cool.
The intent behind these displays is to draw customers in and showcase the product without making it accessible to everyone. This helps to maintain the products uniqueness or specialty, and (for food) its freshness. The specialty display is an attractive type of display that requires customers to speak to retailers in order to access it. However, it can be expensive and does require more maintenance than other displays.
6. Garment Racks
Meanwhile, garment racks are used to display clothing and apparel, such as ties, hats, and scarves. It's cheap and lightweight option (usually made of metal) and can be adjusted to hang clothing in various shapes and sizes. You can also get various sizes of such racks and place them on different shelving, drawing attention to each aisle. Despite its ease of use, though, garment racks lack visual appeal. It can be difficult to see all the items on the garment rack unless one carefully considers what and how to position each item.
Among these displays and racks types, there are also several versions of each. Dump bin displays, slatwalls, grid walls, banner stands, and end-cap displays are some examples of these versions. Still, window displays, table displays, gondola displays, peg boards, specialty displays, and garment racks are six of the most common types used in the commercial enterprise.
Related: How Can I Improve My Merchandising Skills?
This may seem overwhelming to any business or retail owner. However, it warrants consideration as it can impact how your store space is utilized and how your customers navigate around the area. By purchasing and installing the right racks, you can successfully show off your best products. As your results your products have a higher likelihood of drawing more people in, making your business rack up more customers and ultimately thrive.
Posted by
Lois Haycock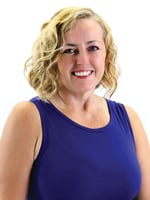 Lois Haycock is a 20+ year retail and eCommerce veteran specializing in project management and business analysis of customer-facing systems and software. Lois is SVP of Digital Transformation at M&M Merchandisers. She also operates several eCommerce stores as well as an executive coaching business. Lois can be reached at lois.haycock@mmwholesale.com